Allu Screening Buckets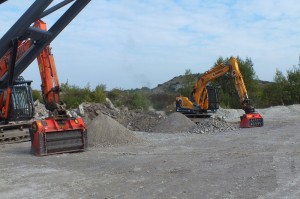 Randall Plant were asked by the Finlay Group product manager Chris Bell to supply a 14 and 20 tonne excavator to demonstrate the ALL Screening Bucket at the Terex Finlay open day at the Wash Mills Recycling Centre, near Dartford in Kent today.
Terex Finlay were showing their large Screening and Crushing equipment to a large number of interested visitors.
The Allu Screening Buckets however still attracted a large number of visitors who were impressed by the Buckets verses some of the smaller conventional Screeners.
Chris Bell said "Once someone tries one of our Buckets they are amazed by its performance and re hire or buy one themselves"
Randall Plant have a range of Screening Buckets for hire including the Allu to fit a 14 tonne machine and it is constantly now out on hire.
We have seen a substantial amount of enquiries for our screening buckets in the last six months and can save clients £1000′s of pounds against the cost of buying in/removal of materials from site.
Anyone hiring a Screening Bucket or Excavator during the month of October will go into our draw to win a family day out at diggerland